Jiangsu Sports Industry Forum tenue réussie
On December 11, 2017, the Jiangsu Sports Industry forum was held in Nanjing. The forum focused on the themes of "innovation, integration and leap forward". It acts as the key platform for policy, industry, academia, research and business exchange in Jiangsu Province.

As the pioneer enterprise who firstly achieved production automation in the industry, Jiangsu Junxia Gym Equipment Co., Ltd, was honored to be invited to attend the forum. Mr. Heng Dunjian, President of Junxia, delivered a keynote speech at the forum entitled "Embracing a New Era, Integrating New Sports, Promote the Manufacturing automation Transformation and Upgrading of Sporting Goods".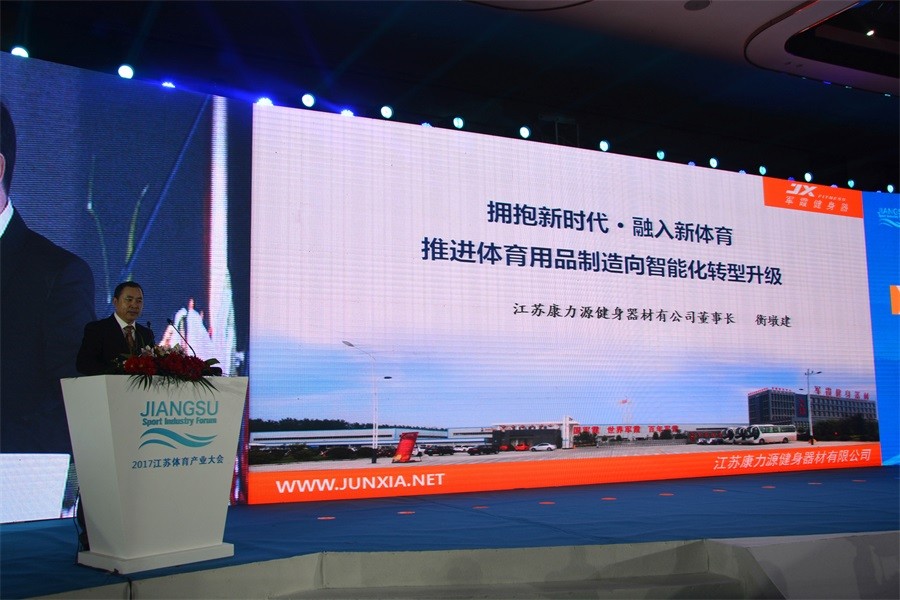 Mr. Heng Dunjian elaborated the development course of Junxia's intelligent transformation and upgrading from the following three aspects, i.e.: "intelligent products, intelligent platform, and intelligent factory". Junxia company adheres to the brand concept of "happy exercise, intelligent fitness", and entered a new innovation development era through comprehensive transformation and upgrading in the following 5 aspects: equipment automation, management informationization, marketing e-commerce oriented, Brand focused management, manufacturing for service.
Going forward, Jiangsu Junxia Gym Equipment Co., Ltd will continue accelerating the upgrade to intelligentization, and keep on promoting the intelligentisation development in sporting goods industry.